Medical & Dread Disease Plans
Health Supreme Medical Plan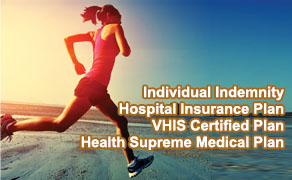 Health Supreme Medical Plan (The "Plan") is a Certified Plan under the Hong Kong Government's Voluntary Health Insurance Scheme ("VHIS") and complies with the requirements of the scheme in product design. The premiums paid for the Plan is eligible for the tax deduction under the Inland Revenue Ordinance (Cap.112). Moreover, the Plan provides several choices of benefit classes which can fulfill your personal needs and offers you and your family a comprehensive medical insurance, renewal is guaranteed up to the Age of 100 years of the Insured Person.
More
Health Accelerator Whole Life Protection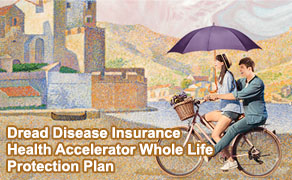 Health Accelerator Whole Life Protection Plan is a life insurance plan with both savings and dread disease protection elements, providing you an all-round financial solution to safeguard your health and wealth. The Plan does not only cater to medium to long term savings target, but also provides coverage for 3 Dread Disease Groups, including Cancer, Stroke and Heart Diseases. Plus, the Plan further backs you up with Extra Dread Disease Benefit. More importantly, different from traditional dread disease protection plans, the Policy will not be terminated after the claims of dread diseases. The policy value will not be decreased by such claims and hence, able to bring you potential return in long term.
More
Vantage Medical Plan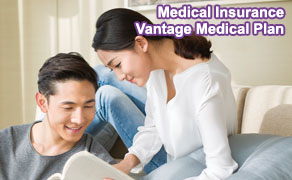 Good health is the most important asset in our life. As a successful and prosperous individual, you would well prepare for the uncertainty and protect the invaluable asset for you and your family. Hong Kong Life understands the needs of quality medical protection for privileged customers and cordially introduces Vantage Medical Plan (the "Plan"). With lifetime medical protection and full cover for major medical expenses, you are assured of a comprehensive support to face any challenge and enjoy your life!
More
Disclaimer
1.
Chong Hing Bank Limited ("Chong Hing Bank") acts as an appointed insurance agency of Hong Kong Life Insurance Limited ("Hong Kong Life"), and is licensed Insurance Agency by the Insurance Authority ("IA").
2.
Chong Hing Bank's role is limited to acting as Hong Kong Life's agent of distributing the insurance products in Hong Kong only. Chong Hing Bank shall not be responsible or liable for any matters in relation to such insurance products which are provided by Hong Kong Life as the principal.
3.
The information contained in this webpage is not and shall not form any part of a contract of insurance and is intended for general reference only. The details, terms and conditions for all insurance products are set out in the terms, conditions and exclusions of respective Insurance Policies issued by Hong Kong Life.
4.
This webpage does not constitute any offer, invitation, recommendation, representation, warranty, advice or solicitation with respect to any insurance products.
5.
The insurance products are issued by Hong Kong Life and all insurance applications are subject to Hong Kong Life's underwriting and acceptance. Chong Hing Bank shall not be responsible for any matters in relation to the insurance products provided and the information of other websites linked to Chong Hing Bank's website.
6.
Hong Kong Life is authorised and regulated by the IA to carry out life insurance business in Hong Kong.
7.
The insurance products referred to in this webpage are products of Hong Kong Life but not Chong Hing Bank. In respect of any eligible dispute (as defined in the Terms of Reference for the Financial Dispute Resolution Centre in relation to the Financial Dispute Resolution Scheme*) arising between Chong Hing Bank and the customer out of the insurance product selling process or processing of the related transaction, Chong Hing Bank is required to enter into a Financial Dispute Resolution Scheme process with the customer; however any other dispute over the insurance products (such as contractual or underwriting terms) of the insurance products should be resolved or handled between Hong Kong Life and the customer directly.
*Source: Financial Dispute Resolution Centre website https://www.fdrc.org.hk/
Customer Services Hotline:
(852) 3768 6888
Email:
customerservice@chbank.com