Savings & Investments Plans


FOREVER GROWTH WHOLE LIFE PROTECTOR II
Forever Growth Whole Life Protector II (the "Plan") is a whole life protection plan with savings element. By paying premium for 6 years or 12 years, you can easily achieve your savings target and plan for the future.
More
PRIME REWARD WHOLE LIFE SAVINGS INSURANCE PLAN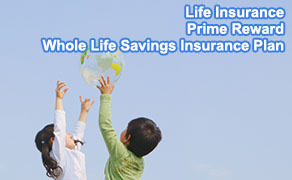 Building your wealth and taking control of your future is everybody's dreams. Prime Reward Whole Life Savings Insurance Plan (the "Plan") offers you flourishing returns as well as whole life protection. With short Premium Payment Term, the Guaranteed Cash Coupon will be payable annually starting from the 2nd Policy Anniversary and the life protection will be provided up to aged 100 of the Life Insured. The Plan also presents Annual Dividend (non-guaranteed) and Terminal Dividend (non-guaranteed) to help accumulate your wealth at ease and realize your dreams.
More
Disclaimer
| | |
| --- | --- |
| 1. | Chong Hing Bank Limited ("Chong Hing Bank") acts as an appointed insurance agent of Hong Kong Life Insurance Limited ("Hong Kong Life"), and is registered with the Insurance Agents Registration Board established by the Hong Kong Federation of Insurers. |
| 2. | Chong Hing Bank's role is limited to acting as agent of the insurance products in Hong Kong only and Chong Hing Bank shall not be responsible for any matters in relation to the insurance products provided. |
| 3. | The information contained in this webpage is not a contract of insurance and is intended only as a general reference of the terms of insurance products. The specific details, terms and conditions applicable to all insurance products are set out in the respective Insurance Policies to be issued by Hong Kong Life. |
| 4. | This webpage does not constitute advice or solicitation to buy or sell, or any offer with respect to any insurance products. |
| 5. | The insurance products are issued by Hong Kong Life and all insurance applications are subject to Hong Kong Life's underwriting and acceptance. Chong Hing Bank shall not be responsible for any matters in relation to the insurance products provided and the information of other websites linked to Chong Hong Bank's website. |
| 6. | Hong Kong Life is authorised and regulated by the Insurance Authority of the HKSAR to carry out life insurance business in Hong Kong. |
| 7. | Chong Hing Bank is an appointed insurance agent of Hong Kong Life. The insurance products referred to in this webpage are products of Hong Kong Life but not Chong Hing Bank. In respect of an eligible dispute (as defined in the Terms of Reference for the Financial Dispute Resolution Centre in relation to the Financial Dispute Resolution Scheme) arising between Chong Hing Bank and the customer out of the selling process or processing of the related transaction, Chong Hing Bank is required to enter into a Financial Dispute Resolution Scheme process with the customer; however any dispute over the contractual terms of the product should be resolved between Hong Kong Life and the customer directly. |
Customer Services Hotline:
(852) 3768 6888


Email:
customerservice@chbank.com