Retirement Plans
Retire-at-Ease II Deferred Annuity Plan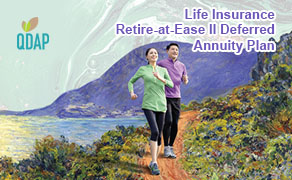 Retire-at-Ease II Deferred Annuity Plan (The "Plan") is a Qualifying Deferred Annuity Policy ("QDAP") certified by the Insurance Authority which is eligible for claiming tax deduction. You can choose the suitable plan for your personal need, through fixed premium payment, to accumulate your retirement fund steadily. Then you can fully enjoy your pleasure retirement life with a regular cash flow on a monthly basis within the Annuity Period.
More
Monthly Reward Annuity Plan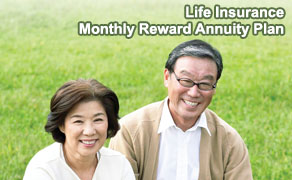 To live with financial freedom, to enjoy retirement or to pursue a dream, early planning is necessary. Hong Kong Life cares your needs and cordially introduces Monthly Reward Annuity Plan (the "Plan") to help you achieve your different goals. The Plan offers different Premium Payment Terms and Income Periods. A stable Monthly Income, which allows you to prepare for the future, will be payable after 1-year accumulation period while the Policy is in force.
More
Disclaimer
1.
Chong Hing Bank Limited ("Chong Hing Bank") acts as an appointed insurance agency of Hong Kong Life Insurance Limited ("Hong Kong Life"), and is licensed Insurance Agency by the Insurance Authority ("IA").
2.
Chong Hing Bank's role is limited to acting as Hong Kong Life's agent of distributing the insurance products in Hong Kong only. Chong Hing Bank shall not be responsible or liable for any matters in relation to such insurance products which are provided by Hong Kong Life as the principal.
3.
The information contained in this webpage is not and shall not form any part of a contract of insurance and is intended for general reference only. The details, terms and conditions for all insurance products are set out in the terms, conditions and exclusions of respective Insurance Policies issued by Hong Kong Life.
4.
This webpage does not constitute any offer, invitation, recommendation, representation, warranty, advice or solicitation with respect to any insurance products.
5.
The insurance products are issued by Hong Kong Life and all insurance applications are subject to Hong Kong Life's underwriting and acceptance. Chong Hing Bank shall not be responsible for any matters in relation to the insurance products provided and the information of other websites linked to Chong Hing Bank's website.
6.
Hong Kong Life is authorised and regulated by the IA to carry out life insurance business in Hong Kong.
7.
The insurance products referred to in this webpage are products of Hong Kong Life but not Chong Hing Bank. In respect of any eligible dispute (as defined in the Terms of Reference for the Financial Dispute Resolution Centre in relation to the Financial Dispute Resolution Scheme*) arising between Chong Hing Bank and the customer out of the insurance product selling process or processing of the related transaction, Chong Hing Bank is required to enter into a Financial Dispute Resolution Scheme process with the customer; however any other dispute over the insurance products (such as contractual or underwriting terms) of the insurance products should be resolved or handled between Hong Kong Life and the customer directly.
*Source: Financial Dispute Resolution Centre website https://www.fdrc.org.hk/
Customer Services Hotline:
(852) 3768 6888
Email:
customerservice@chbank.com